Duc Khai Joint Stock Company was honored to be given the award for the top 10 biggest investors in Vietnam
28.05.2012
In HCMC, on May 25, 2012, at Park Hyatt Saigon Hotel, Duc Khai Joint Stock Company was
honored to receive the top 10 biggest investors in Vietnam Award from BCI Asia Organization. This award honors the largest design consultancies and investors with significant influence on the construction industry in each country in particular, and in Southeast Asia in general.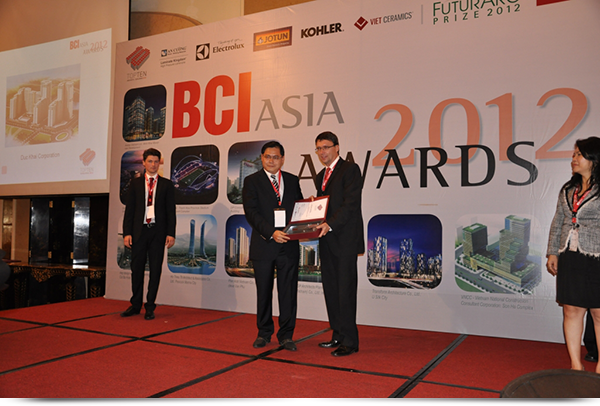 - BCI Asia Top 10 Developers Awards 2012 - Top 10 biggest and most influential investors in Vietnam in 2012 is the award seeking big investors and design consultancy companies in Southeast Asia. Moreover, the award is also the recognition and motivation for leading enterprises in creating innovative ideas to serve the architectural works manifesting community responsibility.
- With the diligence and hard work of investors during this difficult time, BCI Asia Vietnam Organization acknowledged these achievements and awarded top 10 most influential and largest investors in Vietnam at Park Hyatt Saigon Hotel. In the awarding ceremony, Mr. Duong Quoc Tuan, the General Director representing Duc Khai Joint Stock Company was honored to receive the BCI Asia Top 10 Developers Award 2012 Vietnam.
- Duc Khai Joint Stock Company operates in diverse fields such as compensation, clearance, commercial business, real estate etc. In the field of real estate, Duc Khai Joint Stock Company focuses on investing in the housing segment for low and middle income people, resettlement houses, social houses serving the Government's social security work. With the motto " benefit share – responsibility attachment – brand creation ", Duc Khai Joint Stock Company's projects are all invested wholeheartedly by the investor to create the best quality products with reasonable prices for customers. The Company is currently the investor of typical projects such as: Phu My Resettlement Project (whose trade name is The Era Town), Lac Long Quan Social Housing Project (The Era Lac Long Quan), Binh Khanh Residential - Resettlement Area (The Era Binh Khanh), Him Lam Residential Area Project (The Era Noble Plaza), Phan Dinh Phung Sports Center Project, Hospital for Traumatology and Orthopedics Project etc.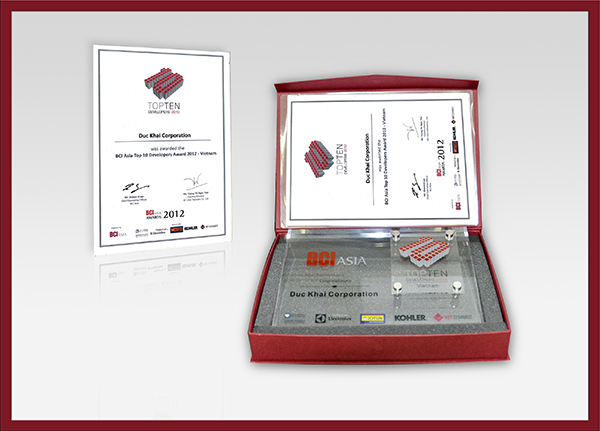 - The BCI Asia Top 10 Developers Awards 2012 once again confirms the achievements that Duc Khai Joint Stock Company has tried to achieve during the past time. The management board and all members of the Party Committee and employees of Duc Khai Joint Stock Company will use all enthusiasm and efforts to create a new road, in which not only the capacity and achievements of investors on the real estate market are demonstrated but we also join hands to share responsibility with the community and society. It is a sense of responsibility, a commitment to quality with our core values "Diligence - Creativity - Breakthrough - Standards" on the future path of the company's development.