On the morning of February 15th 2012, the Association of HCMC Real Estate held an early Nham Thin spring meeting at the Windsor Plaza.
- At the meeting, Mr. Le Hoang Chau - president of Association of HCMC Real Estate identified that the market in 2012 continued to have difficulty, so this is a chance to stabilize and purify the market, helping the market to redirect. In 2012 the liquidity of the banking system, credit system does not have favorable signal

so the authorities should have a more
positive solution together with the dynamics of the business will be an opportunity for investor to capture opportunities. One good sign for the Dragon Year is the leader of HCMC People's Committee has agreed to the policies that buy back the suitable housing projects for the resettlement program of the city to ensure investor interest. Accordingly to the flats with an area of 50-70sqm would be consistent with the purchasing power of the majority of people.

- Mr. Nguyen Van Duc, deputy director of Dat Lanh Real Estate Company, vice president of HCMC Real Estate Association, said he will propose solutions to remove difficulties for the real estate market to focus on three main solution is to build the specific targets designed for small apartments, public administrative reform and loans to projects completed in 2012 and is priced less than 1 billion /apartments.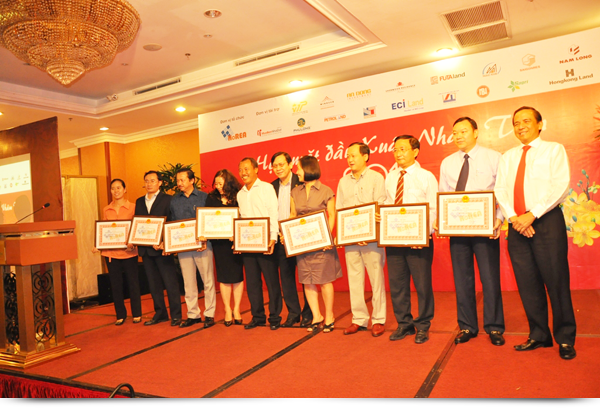 - According to Mr Nguyen Hoai Nam- Deputy Director of the Department of HCMC Planning and Architecture, the city today has over 56% of land funds for urban development with a population about 10 million people. Therefore, the real estate market is considered very potential; in good conditions for development but became gloomy recently, due to unmarketable products. According to Mr.Nam, to restore the market, they should address four major issues are: Financial policy must be sensitivity consistent; Intervention of the government to the market must be more satisfactory compare to the faint of previous time – Specific develop market orientation for short-term and long-term; Solving the problem of land prices. However to achieve this we need for coordination of many different sectors, based on that the market will stabilize development and useful to society.

- At the meeting, the City People's Committee and the Association of HCMC Real Estate also awarded certificates of merit to enterprises for their achievements in the work of being involved in organizing and building operation real estate association continuous years, contributing to the City Real Estate market development, including Duc Khai Corporation.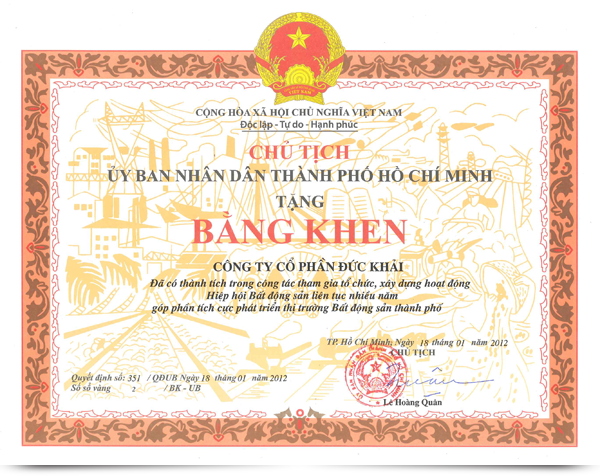 - 2012 is considered a difficult year but the businesses should remain optimistic on the operating policies of macroeconomic and other government authorities. Therefore the key task for real estate business in 2012 is widened capital for real estate enterprises to continue and complete the unfinished projects, recovering the market and most importantly regain the trust of customers.